Zhou made a 261-day trip around China's inland borders — including the autonomous regions of Tibet, Xinjiang and Inner Mongolia — to escape the rat race of modern urban life.
Like other road adventurers, Zhou collected a wealth of unusual experiences during his trip. He crossed vast no-man's lands where no people lived. He slept in snowfields at minus 40 degrees Celsius. But what made his trip truly unique was that he undertook the 30,530-kilometer journey on an NQi Pro powered by lithium batteries.
"The decision to start the trip was more or less on impulse," he said. "The actual idea of touring around China came to me as early as 10 years ago, but I never initially imagined I would do it on an electric bike."
Zhou said he first thought about doing the tour on a regular bicycle but decided that might be too fatiguing. He wasn't skilled at riding motorcycles. An NQi Pro became the compromise choice for transport.
He did some trip planning, searching online for routes, accommodation and other travel information. Then, without telling family or friends, he took off on June 28, 2019.
Zhou first passed through Fujian, Guangdong, Guangxi and Yunnan on his way to Tibet. The two most difficult phases of the journey were the ride from Tibet to Xinjiang and the ride through northern provinces in extreme cold.
Charging his NIU's batteries was obviously a challenge throughout the journey. Zhou had his NQi Pro modified a bit before leaving, adding an extra battery, upgrading the headlight and tailoring himself a more comfortable seat.
"When I looked for accommodation, a charger or generator was more important than a bed," said Zhou. "It was not a problem in cities. But in rural areas, especially in places not covered by a power grid, I had to look for solar generators and sometimes sought help from military camps."
"My best record was 245 kilometers a day," he said. "But in rough conditions, like snowy mountain areas, I couldn't manage more than 50 kilometers in 12 hours."
"I have to admit that I was blessed with good luck on the trip," he said. "No major malfunction ever happened to my bike, except the occasional flat tire. There were also a few times when my NIU ran out of battery in the middle of a long highway. I was lucky that truck drivers were kind enough to stop and give me a lift to the nearest gas station or hotel so I could recharge."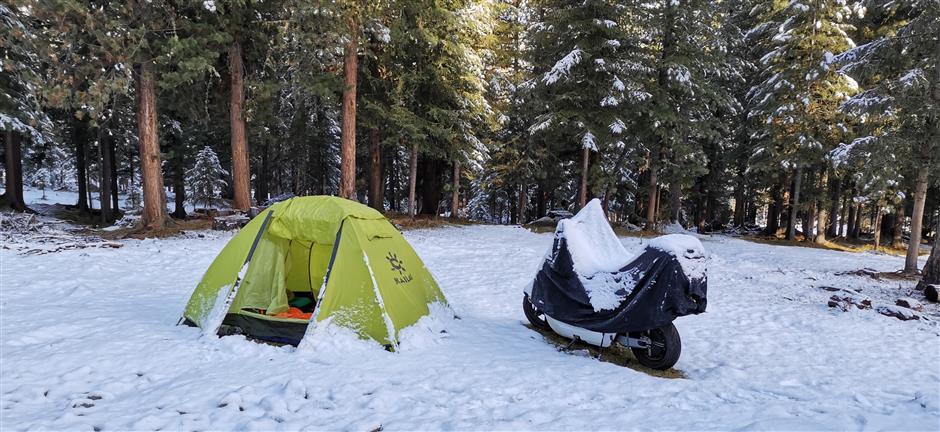 In northern provinces, Zhou said he couldn't ride outdoors for more than four hours a day because of the cold.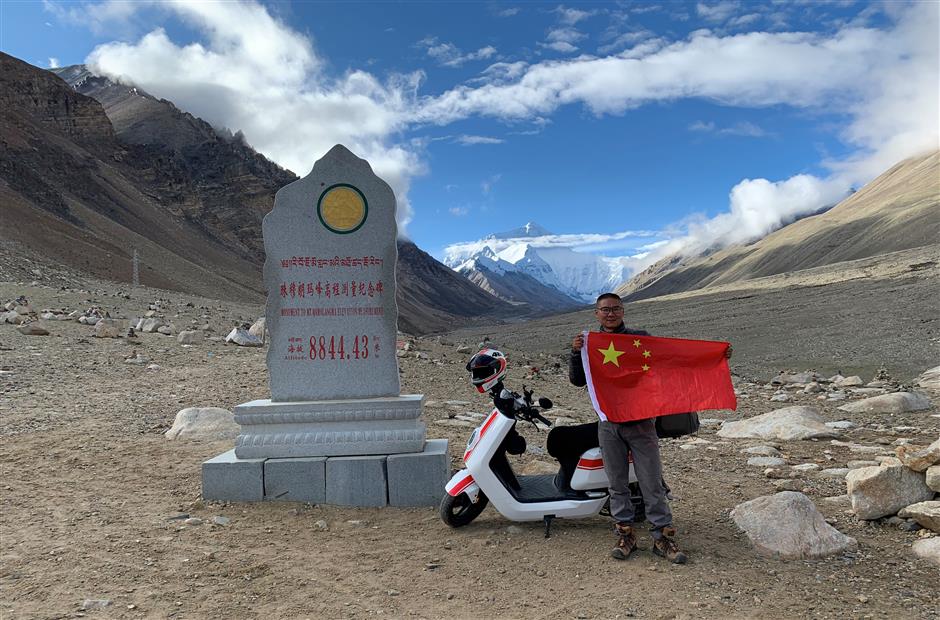 Zhou's journey ended in Shanghai on May 28. The whole trip cost him about 100,000 yuan (US$14,100), including the 10,500 yuan he spent for the bike.
"Once pandemic restrictions are lifted, I will tour interior provinces in China," he said. "When the pandemic is over, I want to ride my electric bike out of China and visit some 'Belt and Road' countries. In short, I want to be on the road from now on. When I'm tired of traveling, I will open an inn for road travelers, offering them food and drink in exchange for their stories."
Despite his romantic outlook, Zhou is enough of a realist to know that he will need part-time work to make ends meet. An adventure on an electric bike doesn't create income.
"There are various life paths for everyone," said the young adventurer, who obviously prefers the path less traveled.
Thanks Zhou for sharing your electric experience with us.
This article has been adapted and first appeared on Shine.cn here.